First we tell you to sit, and then we tell you to spend more time standing; now we want you to wobble? That's right! Our bodies are not meant to maintain static positions for long periods of time; our muscles, organs and even our minds want to stay in motion. By engaging the different parts of your body throughout the day you will feel more alert and focused, will be healthier and may even have just a little more fun at your desk!
We were just introduced to a few new motion seating products that push the envelope of form, function and utility. Via seating has introduced three lines that incorporate subtle, intuitive motion into their designs. This is ergonomics at its best!
The Motion Seating line from via seating….
Improves posture
Combats static sitting and standing
Provides relief for back pain
Strengthens and conditions muscles of the back, abdomen and legs
Improves nourishment to the inter-vertebral discs
Improves circulation to the lower extremities
Assists lymphatic flow
AND….Provides a fun and energizing sitting experience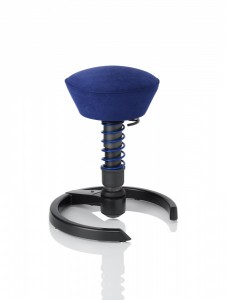 Swopper: Guaranteed to be the most fun you will have sitting at your desk. This somewhat whimsical stool allows you to bounce and spin which will not just make you giddy but also give you a workout!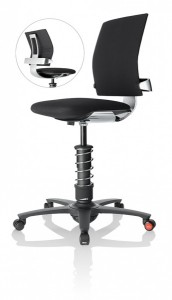 3Dee: An innovative blend of task and stool. With the benefits of movement similar to the Swopper, this active chair also provides additional spine support with a contoured back that allows for the inclusion of a lumbar support. This chair moves with you as you work, making movement easy and comfortable.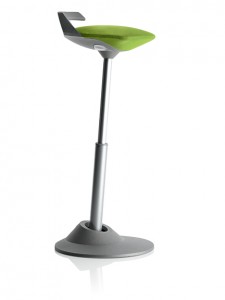 Muv man: This sit to stand stool will have you on the edge of your seat, literally. Use it seated to engage your core and improve your posture or raise the height for a supported standing position. The center post offers lateral movement so that your body stays properly aligned and supported throughout the day.
The motion seating line from via gets two thumbs up from our office staff. After getting the chance to test drive these new seating solutions, we are happy to turn over our standard task chairs for the alternative!