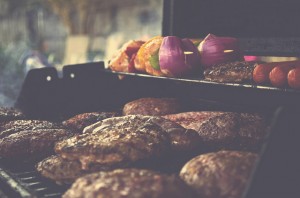 Make your summer shindig a breeze with some minimal effort party tips!
1. Skewer School! Don't use skewers purely for kabobs. Skewer thin vegetables, like asparagus, to allow easier grilling. Also use two skewers for kabobs to ensure pieces don't rotate when you flip them on the grill.
2. Cooler Corn! Having a blowout and need to make a large amount of corn on the cob? No pots to spare? Don't panic, simply put your corn in a large cooler, add boiling water, and wait for about 30 minutes. You won't want to cook corn any other way!
3. Dish Collector! Instead of running in and out of the house to put dirty dishes in the sink, make a dirty dish bin. Attach a "Dirty Dishes" sign to the front of any tote or bin and you have yourself a dish collector.
4. Where's the Bottle Opener? Tie a bottle opener to your cooler or drink tub so it's easy to find and doesn't wander off!
Back to List of Posts