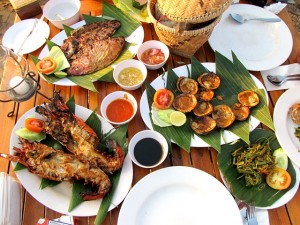 Potlucks are a summer tradition that encourages sharing, friendships, and most importantly delicious food! Loosen your apron strings and allow your guests to worry about the food. Use these tips to ensure your potluck is a success.
1. Any meal that requires buns- On your buffet table put bottoms before the meat and tops after. This will keep the line moving!
2. Easy meal prep- Wrap your dishes like a caterer: set your plate on top of plastic wrap and wrap twice- up and over. Simply cut open with scissors instead of ripping and pulling the wrapping.
3. Bug off- To keep bugs from feasting on your food add a fan to the end of the buffet table to blow 'em off!
Back to List of Posts