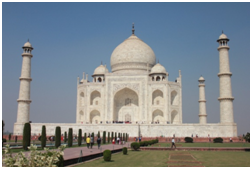 When traveling to India for the first time in November of 2014, I was intrigued by many of the cultural differences.  Things that immediately stand out are the sounds of the many riksha horns blowing in the bumper to bumper traffic, the brightly colored saris with ornate patterns that the women wear, the wonderful spices and aromas of the food and mostly, how everything is an art within itself.
I was told by many, if I go to India, I have to try their street food.  The majority of places I went had a variety of road side food.  Everything is made and prepared right in front of you.  Vendors have their own food cart on wheels that include griddles, woks and utensils.  This is considered their grab-and-go food.  Nothing is prepackaged.  My personal favorite was the sweet and salty panipuri.  It is a round hollow fried crisp filled with flavored water, tamarind chutney, chili chaat masala, potato, onion and chickpeas.  The spirit of India is definitely reflected in their food.
One of the most common items of clothing worn by the women is the sari, so I had to buy one.  When shopping for saris, one size fits all.  There is no purchasing a sari in my size.  I simply picked out the fabric that I wanted, took it to a tailor and designed it myself.  I was able to decide if I wanted sleeves or not, how low of a neck line I wanted, if I wanted tassels on it and even how I wanted the sari wrapped around myself.  There is a northern and southern Indian style way of wrapping.  This is a fascinating concept.  Three different women can buy the same sari and have three completely different designs.  I felt like a fashion designer by the time I left the tailors.
One of the most majestical things you can ever experience is visiting the Taj Mahal.  It is one of the man made wonders of the world for a reason.  It took 20,000 artisans and craftsmen and 1,000 elephants to transport building materials over a span of 22 years to build this white marble mausoleum.  The architecture is stunning and includes many elements of symmetry from their architectural domes and arches.  The intricate carvings make up calligraphy and inlays create different patterns on the marble forming vines, fruits and flowers.  There were no machines replicating the slabs of marble to multiply them so the Taj Mahal would be perfectly symmetrical.  If an artisan or craftsman spent hours on one slab of marble and made a mistake on the last inlay, they had to start over again.  I have a huge appreciation for the art and labor that was involved.
Indian movies display forms of many arts.  The Indian film industry incorporates not only acting, but singing and dancing into their films.  Usually the singing and dancing in a film is staged in an architecturally grand setting or in a beautiful nature setting.  They are on average, a little longer than a typical American film, but well worth it.
My experiences in India are very different from what I am used to living in the United States.  As easy as it is for me to fall in love with the food, clothing, architecture, entertainment and other things, I also fell in love with the process and story of how everything is made. It is inspiring to me how something so different exists and thrives.
(This blog was written by Kile Krawczak, Interior Designer)
Back to List of Posts