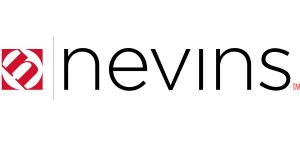 Nevins was founded by Brian Nevins in 1979 with a simple belief: solutions by choices. Since our founding, this simple belief remains our credo and has driven us through multiple successful decades and into the future.
The Nevins team is composed of individuals who strive to provide nothing short of the best service for our clients – creating the ultimate team atmosphere for our still family-owned business. No matter the project our team is highly committed to providing attractive and competitive solutions.
A standout attribute of Nevins is our sheer breadth of product offerings. Tables for conferencing, training, and dining in addition to comprehensive public seating and creative lounge setting seating and accessories make our collections truly stand out within the contract furniture industry. And through our constantly updated product line, we are able to consistently stay at the forefront of product innovation.
Our mission is clear: deliver the most comprehensive furniture solutions to our clients, solutions which promote increased productivity and creativity in the workplace. We achieve our mission by focusing on designs that are clean and functional, offering a multitude of material options, and integrating technology seamlessly into our product lines.
With Nevins, our clients can rest assured that they will receive the utmost attention and the best in creative workplace solutions.
Learn More